Hello guyzz!
I'm more online on the HH website/game than here, but sometimes I correct pages with wrong information.
I try to be on here at least once week-month.
My IGN is Dave966
Feel free to contact me  :]
To Do:
Correcting Coin Box page
Adding more information on Damage span calculating page
Correcting Stages and all stages pages
Make a list with crafts and used shinies  >>> add Cyro X Force, Cyro Thorn Blade, Skull Bone Gun, Hydro Legs, Mystical Legs

Wish List:
Oneshot Mongrels (almost done like in one extra hit)
Formula list:
1. Def output calculating:
sqrt(sumOfDefenseBonus>SuchAsArmorAndHelmetsAndLeggingsAndShieldsAndAccessories * Defense)
2. Damage (on monsters) calculating:
2*(damage span) / Monster defense    (Don't forget to multiply by your critical decimal and guild rage when you use it (+25%))
- Credits to Bezu http://www.helmet-heroes.com/forum/viewtopic.php?f=5&t=42708
3. Damage span calculating:
This is not a simple formula and depends on every piece of equipment. You can deduce your damage span with the following elements:
Main power stat (amount of power or range or magic or artillery)
Specific power stat when a set is formed so for example full spellbound set has these: Min: 310 // Max: 317.5  
> Meaning if you have 2,000 magic and full spellbound set you'll have damage span (620,000 - 635,000)
This page contains more sets:.
Full Bladed set (=helm, armor, legs), Cyro boots and 2 Brooding Fire axes ~270: Min: 141.5 // Max: 166.5
Full Empowered set (+2 spellbound wands) ~750: Min: 375 // Max: 382.5
Full Empowered set (+2 wands) ~790: Min: 430 // Max: 447.5
Full Repguana set (+bow), Mystical boots ~190: Min: 155 // Max: 172.5
Full Pirate set (+Kreeton gun) Corruption boots ~240: Min: 123 // Max: 130.5
Full Atomic set (+SBG) ~370: Min: 227 // Max: 252
Full Corruption set (+SBG) ~750: Min: 319 // Max: 344
Every Magic shot counts as 70% of your pure damage.
__________________________________________________________________________________
Useful to know:
When monsters hurt you badly, press V. Keep holding V while attacking, so they won't cause as much damage anymore.
Pushing monsters to one side will cause them to walk to the opposite side. Make use of this when you're cornered.
The higher the room number, the more worthy coin boxes are.
Shiny fish have a spawn rate of 1/550.
All shinies are worth at least 40k (Due to their adding stats), so don't sell those in the shops (where they're worth only 5k-25k)
Watch out for enemies dropping shoes (Dark Beholder, Mongrel etc.) Try to press E immediately when the coin appears.
There are 7 ATMs spread across the map: Fairyville, Mushroom Village, Snowy Flatts, Robo City, Petropolis, Acid Village and recently also Sky Kingdom.
You can get free tix through Trialpay, Superrewards and Persona.ly. In my opinion, Trialpay and Superrewards are the best, and the lower the prize for each task, the more sure you are to receive your reward.
Healing a pet by pressing G (and you need to have a magic wand equipped) will grant free love to a lvl 1 pet. (You need to press a lot of times, at least 30, but there's no max.)
__________________________________________________________________________________
Underlined items are 100% to be dropped, idk if the values are 100% correct
ITEM DROP RATES AS OF GAME VERSION 6.05                   - Credits to Monochrome     https://www.helmet-heroes.com/forum/viewtopic.php?f=5&t=19974#
WEAPONS AND SHIELDS
chainsaw: 1
net: 1
stick: ?
big stick: ?                 <Suddenly rare
red plastic sword: ?
blue plastic sword: 110
slingshot: 32
plastic saber: 100
airsoft gun: 32
basic wand: 25
bronze dagger: 80
hammer: 78
sickle: 75
small bow: 80
paintball gun: 78
bone: 55
fishing pole: 10
wooden bat: 85
sai: 50
short sword: 80
meat cleaver: 85
leaf bow: 90
bb gun: 85
fireman hatchet: 55
star wand: 30
umbrella: 56
machete: 50
claw: 3       < Drop rate surely isn't 3/10,000
triple leaf bow: 45
wood scrap shield: 55
single sphere wand: 49
basic magic staff: 68
garbage can lid: 115
rusty scimitar: 60 
sledgehammer: 68
potato gun: 55 (Kraken)
stop sign: 75
medium bow: 50
log spliting axe: 16
pickaxe: 40
smiley tin shield: 45
single battle axe: 60
sythe: 40
wood metal shield: 60
leaf pad bow: 50
wooden spear: 60
chunk mace: 53 (Night Stalker)
blue sphere staff: 40
nightingale wand: 40
bronze shield: 55 (Repguana)
handgun: 49
thorn bow: 48
natures staff: 80
teardrop blade: 30
reptile wand: 32
protector shield: 40
revolver: 37
rich mans bow: 35
two handed mace: 70
skull spear: 45 (Crab)
nightingale staff: 40
stone shield: 55
angels wings bow: 20
night glow wand: 29
mac10: 19
eagle staff: 16
eagle slingshot: 25 (Leafling)
mechanic wing bow: 22 (Sasquatch)
halberd: 30 (multiple monsters; Magmagon)
mp5: 20 (Mongrel)
winged diamond wand: 26
ocean staff: 36
crystal heart shield: 43
tropical staff: 33
indian wand: 25 (Night Stalker)
demons fury: 7
shotgun: 30
bat wing staff: 22
crypt bow of fire: 28
ice hammer: 32
mega sword: 24
wand of blessings: 23
ancient battle axe: 4
death bringer: 3
natures bow: 27
spherical staff: 27
guardians warhammer: ?
captains rapier: 24
diamond studded bow: ?
tommy gun: ?
heated staff: 25
heartstriker bow: ?
ancient shield: 3
axe of minions: 2
M16: ?
electric katana: 20 (Proteum)
electric infuriator: 10​​​​​​​ (Proteum)
shaman wand: 2
future shield: 2
fallen queens spectre: 23
night glow bow: 7
es c90: 7
light sword: 9
ak47: 6
frosters bow: 6
ice blade of gods: 5
single hatred blade: 8
shaman staff: 2
flaming needle bow: 6
dino shield: 3
barbarian axe of fire: 4
beholder wand: 11
reapers scythe: 3
sniper rifle: 5
cyborg bow: 5
mummified axe: 2
beholder staff: 9
blade of hatred: 3
robot shield: 3
element wand: 7
single godly blade: 2
dino blade: 3
beholder sword: 2
element staff: 7
xm8 rifle: 3​​​​​​​ (Mongrel)
beholder bow: 3
beholder shield: 2
analytic wand: 5
frosting trident: 3
machine gun: 2
small skull crusher: 2
analytic staff: 5
archaic bow: 2
skull crusher shield: 2
serpent wand: 4
chaingun: 1
acidic sword: 2​​​​​​​ (Kraken)
serpent staff: 2
harpoon bow: 2
beholder axe: 2
acid shield: 2​​​​​​​ (Kraken)
kreeton cutter: 1
kreeton shield: 1
skull crusher: 1
bazooka: 1​​​​​​​ (Mongrel)
darkane wand: 2
two hand acid blade: 1
thors hammer: 1
darkane staff: 1
rayon gun: 1
eye of kreeton: 1
repguana bow: 1 (Repguana)
brooding fire axe: 1​​​​​​​ (Mongrel)
bladed shield: 1
skullcrusher gun: 1
beholder gun: 1
electric barracuda: 1
kreeton gun: 1
phantom wand: 1
god dagger: 1
divine bow: 1
phantom staff: 1
mithril shield: 1
enforcer gun: 1
frozen mithril shield: 1

HELMETS
chichen hat: 1
hair flower: ?
green beanie: ?
eye patch: 120
blue beanie: ?
paper hat: ?
red beanie: ?
paper bag: ?
half ski mask: ?
shades: 120
full ski mask: ?
head wrap: 10
koon hat: ?
santa claus hat: 6
clover hat: ?
half coconut: 110
detective hat: 60
crumby wizard hat: 50
oriental hat: 90 (Yellow Hairy)
archer hat: 120
coconut helmet: 70
frankenstein mask: 7
hockey mask: 55
coconut leaves helmet: 60
lazer shades: 40
leather helmet: 130
archer patches hat: 60
red wizard hat: 30
bucket helmet: 1
monster skull: 11
sombrero: 28
pumpkin helmet: 40
cat hat: 45
racing helmet: 40
army helmet: 30
roman helmet: 34
blue wizard hat: 45
cowboy hat: 48
blue face helmet: 30
blue wizard hat: 41
cowboy belt hat: 40
witch hat: 65
apollos helmet: 50
charm hat: 55 (Dark Beholder)
masked cowboy hat: 50
spartan helmet: 7
knight helmet: 19 (Penguin)
sorcerer hat: 41
metal cat helmet: 25
green face helmet: 30
stone helmet: 34
gold helmet: 20
sorcerer copter hat: 34
pirate hat: 35
steel helmet hat: 28
horned helmet: 8
deep sea helmet: 8
jester hat: 6
pointed pirate hat: 9
strong basket helmet: 26
adamantium helmet: 14 (Drill Bot) ?
cone helmet: 16 (Repguana)
ghost mask: 35 (Night Stalker)
strong full helmet: 24
magnesium helmet: 20
spiked shell helmet: 22
wizard hat mask: 31
mushroom helmet: 2
protector helmet: 20
snout zinc helmet: 18 (Repguana)
steel masked helmet: 13
enchanted helmet: 15 (Goo Cube)
crusader helmet: 16
samurai helmet: 3 (Mongrel) ?
royal helmet: 13
ancient helmet: 3
cowboy knight helmet: 11
chain helmet: 13
blue crystal helmet: 12 (Magmagon)
pink crystal helmet: 12 (Magmagon)
assault helmet: 3 (Glord)
future helmet: 2 (Bionic Birds) ?
cyborg helmet: 4
chemical mask: 3 (Mongrel)
neon magic helmet: 3
helmet of hatred: 9 (Mongrel)
industrial helmet: 4
dino scale helmet: 8 ?
hybrid helmet: 3
astro helmet: 3
alloy wolf helmet: 2 (Magmagon)
achilles helmet: 3
robot helmet: 3
relic helmet: 2
archaic helmet: 2
element helmet: 2 (Proteum)
imperial helmet: 2
earth helmet: 2
analytic helmet: 2
valor helmet: 2
beholder helmet: 1
serpent helmet: 1
skull crusher helmet: 1
titanium helmet: 1
acidic helmet: 1
repguana helmet: 1
pirate helmet: 1
darkane hood helmet: 1
kreeton helmet: 1
bladed helmet: 1
enforcer helmet ?
phantom hood: 1
divine helmet: 1
mithril helmet: 1
ARMOR
chicken outfit: 1
white shirt: ?
green shirt: ?
red shirt: 125
blue shirt: 70
body wrap: 101
suit: 60
beat trench coat: 10
archer shirt: 30
mexican shirt: 34
coconut armor: 40
brown wizard robe: 50
roman robe: 52
cowboy shirt: 52
leather armor: 40
red wizard robe: 40
leather archer armor: 50
koon outfit: 55
chainmail: 48 (Goo cube)
ballerina outfit: 41
blue wizard robe: 39
bronze plate armor: 55
mocap suit: 40
apollos armor: 50
pirate vest: 37
knight armor: 36
magician armor: 35
stone armor: 39
metal ballerina outfit: 33
super hero shirt: 32 (Dark Beholder)
fish scale armor: 32
sorcerer robe: 26
gold plate armor: 22
jester shirt: 28
reinforced bush armor: 23
adamantium armor: 22
cursed robe: 27
flak jacket: 22​​​​​​​ (Dark Beholder)
magnesium armor: 15
enchanted armor: 25
cowboy knight armor: 22
strong armor: 20
zinc armor: 19
royal armor: 9
protector suit: 18
samurai armor: 16​​​​​​​ (Mongrel)
chemical armor: 16​​​​​ (Mongrel)
ancient armor: 3
blue crystal armor: 20
pink crystal armor: 20
chain armor: 16 (Goo cube)
future armor: 1
neon magic suit: 7
assault armor: 12
armor of hatred: 12
astro suit: 6
cyborg armor: 6
dino scale armor: 11
relic armor: 5
industrial armor: 5
robot armor: 4
element armor: 4 (Proteum)
valor armor: 3
achilles armor: 4
imperial armor: 4​​​​​​​ (Mongrel)
analytic armor: 2
archaic armor: 3
beholder armor: 1
earth armor: 2
serpent armor: 1
skull crusher armor: 1
titanium armor: 1
acidic armor: 1
kreeton armor: 1
pirate armor: 1
repguana armor: 1​​​​​​​ (Repguana)
darkane armor: 1
bladed armor: 1
divine armor: 1
phantom robe: 1
enforcer armor: 1
mithril armor: 1

LEGGINGS
chicken pants: 1
green shorts: ?
red pants: ?
green pants: ?
yellow pants: ?
ballerina stockings: 70
blue jeans: 90
suit pants: 80
wrapped legs: 10
beat cargo pants: 10
archer pants:
coconut knee pads: 45
mexican pants: 35
brown wizard pants: 50
roman leggings: 40
cowboy pants: 50
leather legs: 45
red wizard pants: 50
archer leather legs: 50
blue wizard pants: 44
koon pants: 60 (Aipster)
chainmail legs: 50
mocap pants: 52
apollos armor: 53
bronze plate legs: 60
magician armor legs: 50
knight armor legs: 36
pirate pants: 40
fish scale legs: 30
stone armor legs: 38
metal ballerina legs: 34
sorcerer pants: 40
gold plate legs: 26
jester pants: 38
reinforced bush legs: 29
adamantium legs: 28 
cursed pants: 35
magnesium legs: 23
enchanged legs: 33
strong legs: 27 (Lotus Eyes) ?
royal legs: 31
cowboy knight legs: 23
zinc legs: 3
protector legs: 25
samurai legs: 23 (Mongrel)
ancient legs: 3 ?
chemical legs: 16
pink crystal legs: 23 (Magmagon)
blue crystal legs: 15 (Magmagon)
chain legs: 16
future legs: 1 ?
neon magic legs: 14
assault legs: 18​​​​​​​ (Mongrel)
legs of hatred: 8 (Mongrel) ?
cyborg legs: 7
dino scale legs: 12
astro legs: 9
robot legs: 5
relic legs: 6
industrial legs: 6
element legs: 5 (Proteum)
imperial legs: 4
achilles legs: 5
valor legs: 2
archaic legs: 2
analytic legs: 2
beholder legs: 1
earth legs: 2
skull crusher legs: 1
serpent legs: 1
titanium legs: 1
acidic legs: 1 (Kraken)
kreeton legs: 1
repguana legs: 1 (Repguana)
darkane legs: 1
pirate armor legs: 1
bladed legs: 1
phantom pants: 1
divine legs: 1 (Giant goo cube)
enforcer legs: 1
mithril legs: 1
SHOES
white shoe: ?
brown shoe: 120
green shoe: 60
elf shoe: 55
cowboy boot: 47
elf bell shoe: 50
steel boot: 55
cursed shoe: 31
double bell shoe: 35
pirate boot: 30
magnesium boot: 16 (Sasquatch)
zinc boot: 22
blue crystal boot: 18
pink crystal boot: 17
chemical boot: 13 ?
future boot: 8 (Block Bot)
assault boot: 14
relic boot: 15
spiked dino boot: 15
achilles boot: 10
element boot: 11
archaic boot: 8
imperial boot: 12
serpent boot: 4
beholder boot: 2 (Dark Beholder)
earth boot: 4
valor boot: 3
skull crusher boot: 3
acid boot: 2 (Kraken) ??
bladed boot: 2
CONSUMABLES
banana: ?
apple: ?
watermelon: 90
turkey: 20
book of artillery: 4 (Magmagon)
book of defense: 4
book of dexterity: 4 (Night Stalker)
book of health: 4 (Crab)
book of magic: 4 (Bouncing Mushroom)
book of MP: 4
book of power: 4
book of range: 4 (Yellow Puff ...)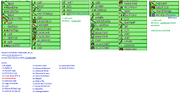 Helmet Heroes Wiki Administrators

Bureaucrats

Dave966

Administrators
Inactive