Above: Old version, before Sky Kingdom was introduced
Below: New version (rough drawn), update 9.50
1. #50 Ooka Ooka Shrooms doesn't go to #67 Plant Swamp, though #48 Mush Cave does go to #67 Plant Swamp.
Also wrong lines are 2. connecting Future Water Trench instead of Light Highway and Wastelands Entrance, 3. no line connecting Shroom Slide and Ice Lake, same as 4. with Wastelands Maze and Wasted Plains and 5. I think Beauty Hillside has one or two more connection(s) to another room.
6. Sky Kingdom wasn't added yet
7. Clicking the dots doesn't work anymore
World Map
Click on a yellow circle to see more detail on that area.
About this image
About this image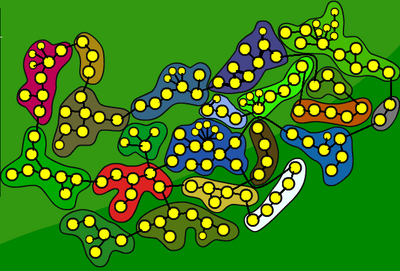 ↑
#2 Green Peak
Monsters: (max ???)
NPCs:

No NPCs

Fish:
↑
#3 Tiki Flatts
Monsters: (max ???)
NPCs:

No NPCs

Fish:

No Fish
↑
#10 Candy Lane
Monsters: (max ???)
NPCs:

No NPCs

Fish:

No Fish
↑
#12 Fairyville
Monsters: (max 15)
NPCs:
Fish:

No Fish
↑
#16 Snoop's Shop
Monsters: (max 0)

No Monsters

NPCs:
Fish:

No Fish
↑
#25 Deep Dungeon
Monsters: (max ???)
NPCs:

No NPCs

Fish:

No Fish
↑
#26 Long Dungeon
Monsters: (max ???)
NPCs:

No NPCs

Fish:

No Fish
↑
#34 Dark Lands
Monsters: (max ???)
NPCs:

No NPCs

Fish:

No Fish
↑
#46 Mush Front
Monsters: (max ???)
NPCs:

No NPCs

Fish:

No Fish
↑
#47 Fungus Lane
Monsters: (max ???)
NPCs:

No NPCs

Fish:

No Fish
↑
#48 Mush Cave
Monsters: (max ???)
NPCs:

No NPCs

Fish:
↑
#52 Fungus Lane
Monsters: (max ???)
NPCs:

No NPCs

Fish:

No Fish
↑
#54 Fungi Woods
Monsters: (max ???)
NPCs:

No NPCs

Fish:

No Fish
↑
#61 Cool Shore
Monsters: (max ???)
NPCs:

No NPCs

Fish:
↑
#68 Wet Bog
Monsters: (max ???)
NPCs:

No NPCs

Fish:
↑
#73 Egg Den
Monsters: (max ???)
NPCs:

No NPCs

Fish:

No Fish
↑
#85 Ice Lake
Monsters: (max ???)
NPCs:

No NPCs

Fish:
↑
#89 Coral Reef
Monsters: (max ???)
NPCs:

No NPCs

Fish:
↑
#90 Bay Side
Monsters: (max ???)
NPCs:

No NPCs

Fish:
↑
#92 Fishing Fort
Monsters: (max ???)

No Monsters

NPCs:
Fish:

No Fish
↑
#106 Flaming Reef
Monsters: (max ???)
NPCs:

No NPCs

Fish:

No Fish
↑
#112 PVP Forest
Monsters: (max 0)

No Monsters

NPCs:

No NPCs

Fish:

No Fish
↑
#113 Sparring Ground
Monsters: (max 0)

No Monsters

NPCs:

No NPCs

Fish:

No Fish
↑
#114 GVG Woodlands
Monsters: (max 0)

No Monsters

NPCs:

No NPCs

Fish:

No Fish
↑
#117 Viper's Shop
Monsters: (max 0)

No Monsters

NPCs:
Fish:

No Fish
↑
#125 Deep Chamber
Monsters: (max ???)
NPCs:

No NPCs

Fish:

No Fish
↑
#134 Acid Flatts
Monsters: (max ???)
NPCs:

No NPCs

Fish:

No Fish
↑
#138 Acid Village
Monsters: (max none)

No Monster

NPCs:

No NPC's

Fish:

No Fish
↑
#140 Acid Healer's
Monsters: (max None)

No Monster

NPCs:
Fish:

No Fish
↑
#145 Cloud Fort
Monsters: (max None)

No Monster

NPCs:
Fish:

No Fishes